Scoop it

– a spoonful of life
慢慢舀 _

一勺匙的人生風景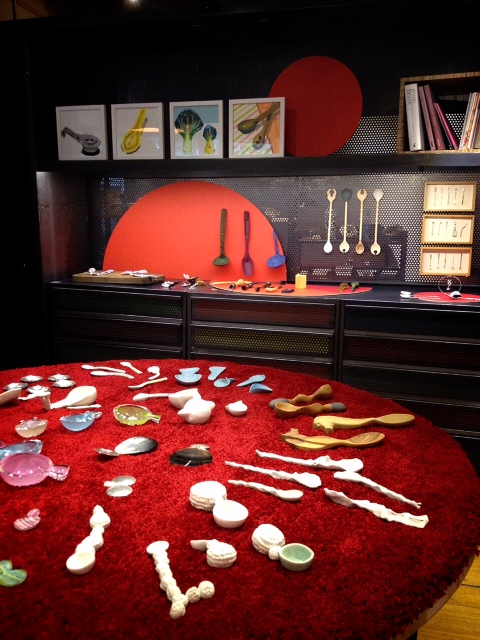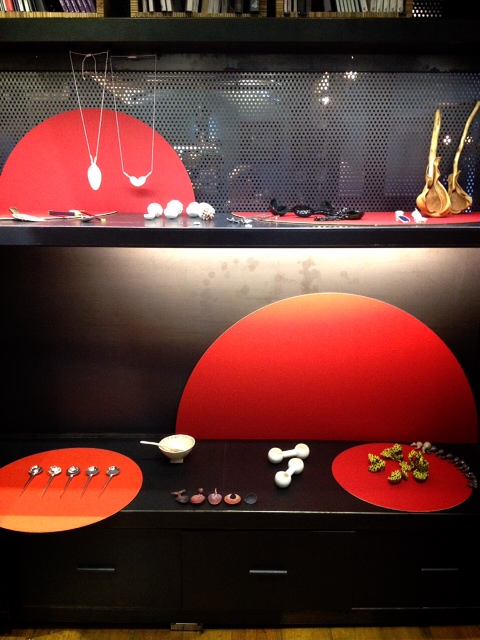 2014 03.05 -- 04.20
Scoop it
– a spoonful of life
"My love for you would blot out the sun like a cloud made out of yogurt. I hope you brought a spoon. " ― Jarod Kintz
Spoons bring nourishment, comfort, memories, and love.
Spoons are the first and probably also the last tool we use in our life. These common everyday life objects seem to be easily neglected but like all things related to senses. They carry emotions and memories with their form and function and accompany us through different stages of life.
Today, MANO is hosting a banquet.
A banquet with more than 50 artists from diverse disciplines serving 130 spoons for you to savour.
To savour the spoonful landscape of life.
To savour the bitter, sour, and sweet in creation.
As the 7th and the last exhibition of MANO's one year platform project, these spoons symbolize the energy and nourishment MANO have tried to feed the public in Taiwan with and hope to stir up more creative juices.
Buon Appetito~
Let's "Scoop it"!
慢慢舀
– 一勺匙的人生風景
在湯裡放鹽,愛裡放責任。------簡媜《紅嬰仔》
就像過年時的圍爐一樣
外婆總說:「多吃點!多吃點!慢慢吃!」
滿桌的山珍美
只盼你好好消化慢慢享受
今天,慢鏝辦桌
超過五十位藝術大廚
集結一百三十道豐富美味
邀您一同上桌品嚐
品嚐勺匙裡的人生風景
品嚐創作裡的苦澀甘甜
湯匙的餵養,如同外婆的用心良苦
湯匙的溫暖,如同慢鏝的熱情執著
回首過往一年,慢鏝密集的策劃展覽
期待能帶給大家豐沛的養份
慢慢舀,慢鏝品味
參展藝術家/ Participated artists:
王安琪 An-Chi Wang / 王柏霖 Po-Lin Wang / 古蕓瑋 Yun-Wei Ku / 伊祐.噶照 Iyo Kacaw / 李姿玲 Tzu-Ling Lee / 李麗惠 Li-Hui Li / 吳芊頤 Chien-Yi Wu / 吳巧怡 Chiao-Yi Wu / 吳岱容 Tai-Jung Wu / 吳采軒 Cai-Xuan Wu / 吳佩宜 Pei-Yi Wu / 吳淑麟 Shu-Lin Wu / 吳義盛 Yi-Sheng Wu / 沈喬楓 Chiao-Feng Shen / 林介文 Gieh-Wen Lin / 林靖蓉 Lynn Lin / 林麗娟 Li-Chuan Lin / 紀宇芳 Yu-Fang Chi / 施佩宜 Pei-I Shih / 胡欣怡 Shin-Yi Hu / 胡慧琴 Hui-Chin Hu / 許文賢 Carissa Wen-Hsien Hsu / 郭亭君 Ara Kuo / 陳郁君 Yu-Chun Chen/陳香伶 Hsiang-Ling Chen / 陳冠伶 Kuan-Ling Chen / 陳紫茹 Tzu-Ju Chen / 陳穎亭 Ying-Ting Chen / 陳東豪 Dong-Hao Chen / 張薇萱 Wei-Hsuan Chang / 康麗雪 Lisa Kang / 曹家誠 Chia-Cheng Tsao / 黃姿斐 Tze-Fei Huang / 黃麗蓉 Li-Jung Huang / 游翔郁 Hsiang-Yu Yu / 曾詩迪 Shih-Dea Tseng / 趙永惠 Yung-Huei Chao /廖偉淇 David Liao / 劉棖暄 Cheng-Syuan Liu / 劉建廣 Chien-Kuang Liu / 蔡明翰 Ming-Han Cai / 盧嬿宇 Yen-Yu Lu / 謝旻玲 Min-Ling Hsieh / 鍾瓊儀 Chiung-Yi Chung / 簡吟如 Yin-Ju Chien / 顧上翎 Shang-Ling Ku / 龔維德 Sasson Kung / David Morris / Janny Huang Yokota / Peter Hoogeboom