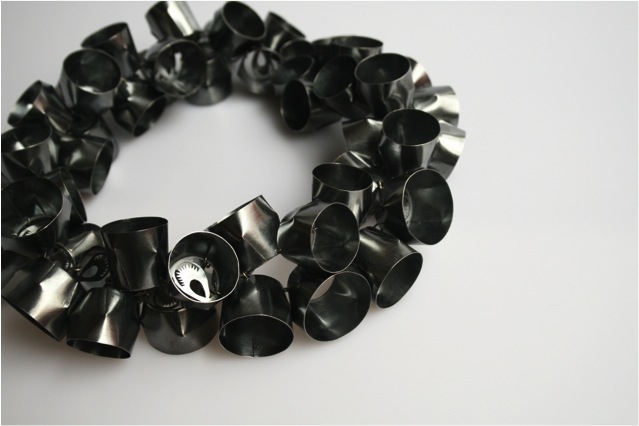 Yu-Chun Chen
Creating Non-being
Being brought up under the Chinese culture in Taiwan and then having had her artistic education in Italy and the Netherlands, the work of Yu-Chun Chen is shaped by these diverse culture crossings. The eastern and the western culture come to a confluence into her work: the introvert and the extrovert, the sentimental and the rational, the tranquil and the active come together. "I feel like belonging to the generation of people who bear witness to the 'globalization' of culture and so as to reflect this experience through my hands into creations." The forms could be bold and daring while the message could be subtle. With the respect for the traditional crafts, she aims to create contemporary jewellery while reminding people the beauty of the old tradition.
Chen quoted the ancient Chinese philosopher LaoTzu (ca.500 BC.) as her source of inspiration:
"We join spokes together in a wheel
but it is the center hole
that makes the wagon move
We shape clay into pot
but it is the emptiness inside
that holds whatever we want
We hammer wood for a house
but it is the inner space
that makes it livable
We work with being
but non-being is what we use"
LaoTzu 'Tao Te Ching' Chapter11
Using the material (the being) to create the space (the non-being), Yu-Chun cuts, folds, hammers, joins, even stitches the metal with the thought of that emptiness / nothingness which eventually 'holds'. The juxtaposition of what we see with what we do not see invites the wearer to contemplate upon, while the jewellery, at the same time, still stands out for its own beauty.
陳郁君
承載 . 無形
生長在台灣的陳郁君,經歷了義大利與荷蘭的金工和藝術教育,將歐洲生活的歷練與自身文化的背景融合在作品裡,試圖將東西文化中的理性與感性、內斂與外放、律動與沈靜,與身體對話而以首飾方式呈現。
她引老子<道德經>第十一章為很重要的創作靈感來源:
三十輻,共一轂,當其無,有車之用。
埏埴以爲器,當其無,有器之用。
鑿戶牖以爲室,當其無,有室之用。
故有之以爲利,無之以爲用。
意思是:
三十支車輻拱著一支車轂,正因中間是虛空的,所以車子才能運轉使用。摶揉黏土做成器皿,正因中間是虛空的,所以器皿才得盛物使用。開鑿門窗,起造房舍,正因中間是虛空的,所以房舍才得居住使用。因此有形有象,利益萬物;虛空無物,妙用無窮。
在作品中,陳郁君天馬行空地使用各種材質創作那樣的「形」,但其實這些「形」是承裝包含看不到的「無形」,背後的故事、情感的牽掛、生活中的細微觀察等等,才是她想述說的。